Samples
View how you can use EBSCOhost's Integration Toolkit first-hand. These samples have been created to show how to integrate EBSCOhost's premium content using the EIT.
HL7 Infobutton Integration Demo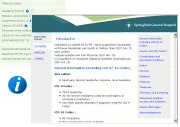 InfoButtons are associated with clinical terms within the patient record in the EMR system. When a user clicks the infobutton clinically relevant content to the term will be presented.
HL7 Compliant (ICD-9, IDC-10, SNOMED, MeSH)
User specific results
Access multiple content resources
View Demo Online
Download Java client library
Web Services Integration Demo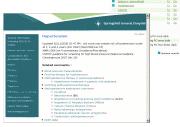 A real-time web service that enables customized and contextually based searches of clinical content directly from the EMR system.
Push/Pull
Direct links to specific content within a topic (i.e. Diagnosis, Treatment)
Flexible style sheet control enables customized look & feel
View Demo Online
View .war Web Application file
Download Java client library
Hospital Information Portal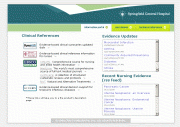 This Hospital Information Portal demonstrates the comprehensiveness of EBSCO Publishing's Medical Product Line and the EBSCOhost Integration Toolkit. This page shows:
Dynamic RSS feeds
Persistent Links to key topics and content areas
Direct Product Access in a dashboard view for a clinician and nurse
View Demo Online
Download Java client library